Zella's Books: "All the Light We Cannot See"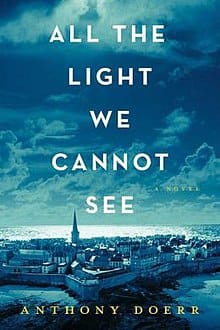 I have often found that a really good book is able to make my surroundings slowly slip away as I become fully immersed in the world within its world and characters. 
"All the Light We Cannot See" was very successful at pulling me into its world, in part thanks to Anthony Doerr's vivid imagery, but more importantly through his compelling characters. Marie-Laure and Werner are on opposite sides of World War II, but both display insatiable curiosity and compassion that defies the cruelty of war. Doerr uses a variety of characters' perspectives that reveals each character's inner thoughts and emotions as they face difficult decisions, act with great bravery, and try to understand the world they are living in. Each character has challenges to overcome and Doerr sees their story through to the very end. 
The book has a nonlinear storyline, weaving the bombing of Saint Malo into the regular progression of the character's lives, which creates a nerve wracking suspense as their stories converge and approach that day. The story follows Marie-Laure from young childhood, as she slowly loses her vision and has to adapt to an unfamiliar environment, and Werner from an orphanage in Germany as he discovers his talent with radios. War and invasion interrupts their lives, and they both find themselves far from home in a world of doubt and fear. Despite this, they both try to hold on to their compassion and in the case of Werner, seek redemption. This story is a long read at 531 pages, but the lessons it teaches about kindness and bravery that survives even as the world seems to crumble with doubt are worth the time spent reading. 
Beyond the touching story, Doerr's incredible skill of description and poetry brings the book alive. He paints a picture with every sentence, and made a masterpiece of a book. Doerr reveals the world through Marie-Laure's perspective, using smells like the sweet perfume of canned peaches, sounds like the beautiful floating music of Clar de Lune, and textures like the spiraling shell of a sea snail to create a clear image of how Marie-Laure experiences life. 
This story is stunning, uplifting and heartbreaking all at once, and I will recommend it to anyone who will listen.