Blackwood's Burst Into Art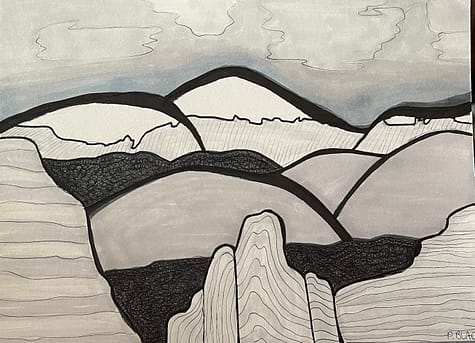 Junior Pacey Blackwood has always had a passion for showcasing her artistic abilities, but it was never just about that. Ultimately, art became a way to daydream and calm her emotions and feelings.
Blackwood describes how the memories of her childhood are something that she has cherished along the way and appreciated going into her young adult years.
Ever since childhood, Blackwood recalls how she would doodle on her pages as well as create landscapes of her imagination to show what was happening in her brain. 
"Drawing became a way for me to relieve my stress and even create memories associating certain works I made," Blackwood said. 
As drawing became an important aspect of Blackwood's life, she learned how to associate different thoughts with her different pieces of art.
"One specific memory that stands out was the American Girl doll movie 'Saige Paints the Sky," Blackwood said. "I was like Saige, drawing and creating whatever came to my mind as a way to express my inner-self." 
Another way that Blackwood spends her free time is by playing video games with her father and even spending some quality time with her dog.
"I like to play Playstation 5 video games with my dad," Blackwood said. "Recently we have been playing Harry Potter, and my dad has been struggling, so I normally come in and save the day for him because he's not the best when it comes to video games."
Blackwood has even kept her longest memories that have meant very much to her close to her heart and mind.
"When I was really little, I lived next door to my cousin, and we would hang out almost every day doing whatever came to our little imaginations," Blackwood said. " I am just very fond of us being young and together and it made me feel like I had a built-in best friend." 
Blackwood has learned that the importance of finding something that makes you love life can be ones greatest advantage, whether it be a simple coping mechanism or a way of showing your true feelings to the world. 
Leave a Comment