CANdyland secures 103,976 pounds for Oklahomans
"
"Sabrina has been everybody's rock during these past two years and with organizing these types of events. She has been a valuable person, and I appreciate all the knowledge she has passed onto me for the next year and a half to come. "
— Jeffrey Wienecke
Outside the school's foyer, students loaded a whopping 103,976 pounds of canned goods into two full semi-trucks to serve the greater community of Oklahoma. The school community was able to achieve more than 80 percent participation between students and faculty.
At the beginning of the semester, StuCo Chair of Fundraising Sabrina Guzman and her co-chair Jeffrey Wienecke began revamping the school's annual Canned Food Drive. 
After exceeding 100,000 pounds with the 2021 Canned Food Drive, Guzman decided to take it one step further and fully make aware of the differences the BMCHS community makes for others.
"The biggest challenge I have witnessed is getting the school to participate as much as we can to make an impact on other people's lives," Guzman said. "After having such a major turnout for the years prior, it was necessary to keep up with the pace and help out as many people as possible." 
After successfully carrying out yet another year in terms of pounds collected and school-wide participation, StuCo relished the results.
 "I believe this year was an amazing success because we were able to meet our goals," Wienecke said. "We wanted to focus more on the participation aspect of things, and with more participation comes more people realizing their impact on the surroundings." 
With this being Wienecke's first year on the fundraising committee, he learned how all the different aspects of fundraising come together. This was all done under the guidance and support of Guzman, who learned how to manage everything her previous year. 
"Sabrina has been everybody's rock during these past two years and with organizing these types of events," Wienecke said. "She has been a valuable person, and I appreciate all the knowledge she has passed onto me for the next year and a half to come." 
With the passing of the torch from Guzman to Wienecke comes shared ideas on how to expand next year's CFD.
"I plan on continuing everything that Sabrina has manufactured to increase participation," Wienecke said. " I also plan to involve the feeder schools more with the drive and to go further outside the Bishop McGuiness community for donations."
Guzman emphasized that this drive was about the students' impact on the greater community. 
"The true meaning of the CFD is to provide for those who experience food insecurity and for the people of McGuinness to experience what it feels like to be a person for others," said Guzman.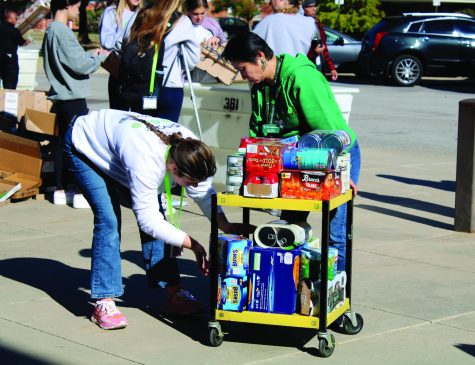 Leave a Comment