ACL Review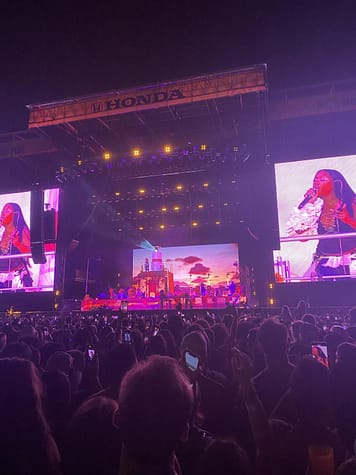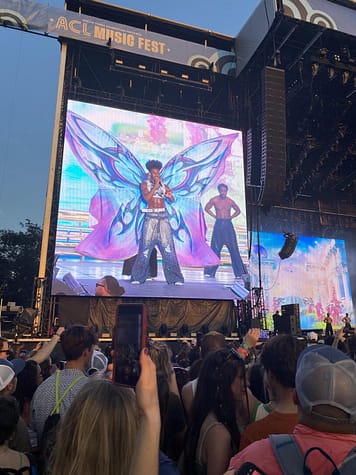 Walking five miles plus a day was worth waiting for Kacey Musgraves' amazing performance.
I went to weekend two of Austin City Limits Music Festival also known as ACL. The main headliners I saw were SZA and Musgraves. SZA played for about an hour and a half, and her set for the stage had a lighthouse and a green screen of ships passing in the background. She opened with the song "All The Stars" and ended with the song "The Weekend." I wasn't close to the stage, but I still enjoyed her concert.
 Musgraves played for an hour and a half as well, and she didn't have a set design but she did have a heart that set on fire when she opened with "Star-Crossed." She ended with "Slow Burn," one of my favorite songs. Musgraves was absolutely amazing, and I was really close to the front. If I had the chance to see her again, I would most definitely go. 
The sub-headliners I saw were Phoenix and Lil Nas X. Phoenix was my favorite just because of how many songs I knew, and Thomas Mars, of Phoenix, went crowd surfing. Lil Nas X was amazing. He had choreography and costume changes during the show. He put on a great show.  
Some other acts I saw were Wet Leg, Vacations, Wallows, Faye Webster, Tyla Yaweh, Spoon and James Blake. Out of those acts my favorite was Vacations and Spoon. Vacations is a band from Australia and this was their very first festival concert so they made it a fun show. Spoon was awesome because I was super close, and I knew all of the songs they played. Gerardo Larios, the guitarist and keyboardist, had technical difficulties during the show which sucked, but he still had a good attitude and played through. 
This was my second year going to ACL and I'm not sure if I'll go again next year just because of the headliners who might play. Another reason why I wouldn't go again was the dust in the air was really bad. I would wake up in the morning and cough up dirt. Despite it all, my experience was good, and I really loved downtown Austin.