Senior goes to Basic Combat Training over summer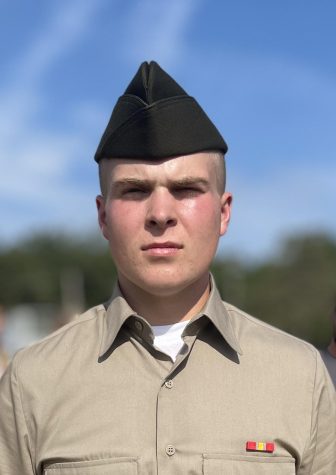 Only 1% of the U.S. population is eligible to go to Basic Combat Training. Senior Jacob Casey was one of 196 high school students who spent 11 weeks training in Lawton at Fort Sill. These students lived, slept, ate and trained together from five a.m. to nine p.m.
Casey explained the daily schedule, "Wake up at 05 and the first formation in our drill pad was at 0545. From 06 to 07, you go back to your battery (living space) to conduct personal hygiene. From 08 to 4:00, ranges and training. Formation at 5:00 and Chow at 6:00. Personal time and hygiene until lights out, which is 9:00. During the night, there were always three people awake. The worst shift was from 12-1 a.m."
"The first reason why I went is because I want to do welding and so I get the GI bill, which will help pay for that,." Casey said. " I also just wanted to be part of something bigger than myself." 
Basic Combat Training is the beginning of one's military career. 
"You go to Basic Training to change from a civilian to millitary and to learn how to function as a team," Casey said. 
Every member of the team always has a role. There were four platoons between the entire group. Individuals in the platoon are responsible for keeping their bed area clean, personal hygiene and formation. Punishments are given when responsibilities are not upheld. 
Being away from home for 11 weeks brings many challenges. There is little to no communication outside of Fort Sill. On Sundays, however, 30 minutes was allotted for phone calls with family. This privilege, along with many others, could be taken away. Casey explained an incident that caused his phone time to be taken away., 
"Our whole platoon was punished when we were sleeping in the field," he said. "During the night, we had a three side patrol, and there would always be one person awake per side. At one point during the night, one of our drill sergeants walked around and all three side patrols were asleep." 
The platoon lost 15 of their 30 minutes of phone call time. 
At the end of Basic Combat Training, Casey had completed the three phases of training. The red phase is the first one to three weeks of training. The next phase is the white phase and this is when they learn rifle marksmanship. The blue phase is the final informational phase. The last three days of training is an event forge that combines all training and applies everything in a real situation. 
"If you really want to go to Basic Combat Training, I would say go for it and get the basic training out of the way,"  Casey said. "If you want to do active duty and don't like combat, there's so many jobs to do. You can become a part of something bigger."